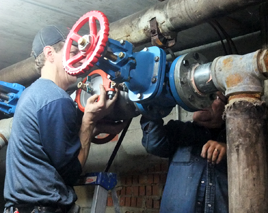 Take your backflow preventer (BFP) installation service requirement off the backburner today.
GreenCity Mechanical takes care of all your backflow preventer needs including engineered mechanical drawings required for all backflow preventer installations greater than 2 inches. We can determine your specific backflow preventer requirement whether it be Reduced Pressure Principle Backflow Prevention Assembly (RP) or Double Check Valve Assembly (DCVA) backflow device.
GreenCity works closely with property managers to ensure minimum downtime to your property and its occupants. All backflow preventer installations will be in full compliance of municipal and provincial backflow preventer codes and bylaws. After installing the back flow preventer device, property owners and/or property managers receive certified copies of the completed test reports for their future reference.
You can rely on GreenCity Mechanical to arrange for annual backflow testing of your backflow devices once the backflow preventer will be installed.
Peace of mind? Property Managers and Property Owners count on GreenCity Mechanical their every backflow preventer need.