Circulator Pumps Installation and Repair
Circulator pumps for heating systems and air conditioning systems are an integral part of any commercial heating and air conditioning system. When something goes wrong with a circulator pump, within a short time the building property manager will be informed.
After a new circulator pump is installed, circulating pump life can be expected to last for many years but if the pump is not properly maintained, the circulator pump life can prematurely terminate and a new circulating pump will have to be installed.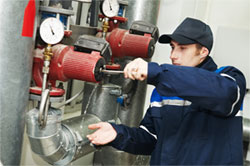 Plumber technician completing circulator pump leak from gasket.
Annual inspection for leaking around circulator pump mounting flanges and lubrication will ensure longer life. If slow leaking will be evident from the pump flanges, when the hot water heating system will be seasonally shut down, the leaking pump flange should be repaired. Otherwise, in the next heating season, an entire zone or entire building may have to be shut down in order to carry out an emergency repair. GreenCity Plumber can assess whether a leaking flange should be repaired immediately or can wait for a time that will not cause any heat disruption to the building.
High rise heating systems can be designed to provide heat to various zones. If any zones call for heat to service a certain area, then a thermostat that is calling for heat in the certain area will turn on the circulator pump that serves the specific area.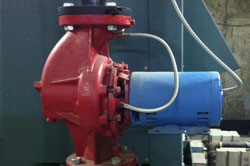 New circulator pump requires annual motor bearings lubrication to extend pump life.
Sometimes a circulator pump will appear to be operating but no heated water reaches some or any radiators in the zone that it is controlling. The problem could be trapped air in the heating pipes.
Trapped air in heating pipes could prevent heated water from reaching a zone or a single radiator or multiple radiators. Air in the system will have to be purged. Devices that automatically purge air can be installed but this would have to be determined by a plumber having expertise in hot water hydronic heating systems.
GreenCity Plumber has years of experience with hydronic heating systems and can determine what steps should be taken so circulator pumps can operate to move heated water efficiently to the specified zone.
Contact GreenCity Plumber when you have heat circulation problems.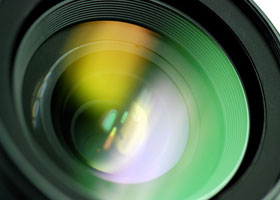 Our professional Toronto plumbing team has worked with countless Toronto property managers and Toronto GTA commercial & industrial property owners.
View All
Back
May 13 2016 by GreenCity Plumber
Green architecture is vastly becoming a popular option to help the environment in a stylish way. This type of architecture promotes sustainable energy sources and…
View All
It's the law. City bylaw says that all industrial, commercial, institutional ICI properties and multi-residential properties of more than 4 units...
View All
My basement toilet laundry tub constantly backed up whenever I washed clothes. GreenCity Plumbers snaked the drains and cleared the clog. Everything works smooth now. Wonderful to have my pipes cleaned by GreenCity Plumber.
- RS, Oakville, Homeowner
Backflow preventer had to be installed in main 4" water main feeding our apartment building. GreenCity Plumbers worked very closely with us during the installation of the backflow preventer because water in the building had to be shut down for several hours. Although 200 families were inconvenienced, GreenCity pre-assembled all parts and backflow preventer for fast assembly prior to... - AB, Residential Property Manager, North York
Water was gushing from the floor at our carwash was due to huge water leak in the 6 in original iron water pipe installed more than 50 years ago. Without water, our carwash is out of business. GreenCity Plumbers quickly found the water leak 6 feet below existing concrete floor and temporarily sealed leak in a badly perforated pipe, allowing our carwash business to operate. In the meantime,... - RMB, Car Wash Owner, North York
Old steam boilers seemed more off than on. GreenCity replaced old boilers with new gas fired Fulton boilers. Building tenants now come to work without any expectations of "no heat" now that the new boilers are installed.
- RSW, Commercial Building Landlord, Toronto
After major storms, lower level of our 60 year old industrial building always flooded. GreenCity Plumber determined cause of flooding was due to building storm water being connected to an internal plugged French drain system on our property. Green City recommended that property storm water be diverted directly to City storm water drains. GreenCity prepared engineered drawings for the... - AS, Industrial Processing Business , Scarborough
Request A Quote