Hydro Jetting Power Drain Flushing Services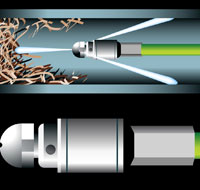 Hydro power jet high pressure drain cleaning makes old drains virtually new.
Having a clean video image of a problematic clogged drain is essential to solving a plugged drain problem. Our CCTV closed circuit TV cameras are small enough to pass through almost any plugged drain to determine the cause of the sewer backup. Drain blockage could be debris, grease or even a child's toy having been flushed down a toilet. In addition to cameras, our hydro jet power drain flusher is powerful enough to pulverize grease, sludge and most other obstructions, leaving clogged drain pipes virtually clean as new. High pressure water shooting from a specialty nozzles at water pressure up to 7,000 psi are custom designed for eradication of various debris and sludge in plugged sewer pipes.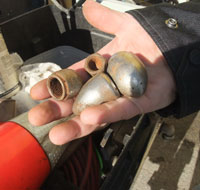 Having the right power jet nozzle for every drain jet clean application gets the drain cleaning job done right.
In multi-tenanted buildings flushing of drains should be an annual preventative maintenance service procedure to prevent disruptions by sewage blockage. Preventative maintenance contracts can go a long way to prevent disruptions for part of or an entire building. Our crews can eradicate problems before they will even arise. Prudent landlords and building managers accept power drain flushing as standard preventative maintenance practice. Otherwise lack of routine power jet flushing can result in pipes clogged with grease and sludge restricting water flow resulting in clogged drains. As time goes by, without a preventative drain flushing program, clogged drains are bound to happen.
Having an image of a drain blockage may give the tale of the story but not knowing exact location of the blocked drain could result in additional disruption in wasted hours excavating for the remediation. Our closed circuit camera clogged drain detection system includes aprobing tool that emits an electronic signal that determines the location of a blockage within inches. Having information of the exact location of the drain blockage results in shorter remedial times thereby saving the customer money.

Drain scoping
composite video freeze frame shows partial collapse of drain walls. Waste accumulates in voids of deteriorating drain. Blockage occurs inside drain that is approximately 25 meters from scope.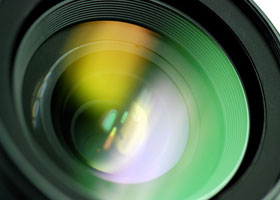 Our professional Toronto plumbing team has worked with countless Toronto property managers and Toronto GTA commercial & industrial property owners.
View All
Back
May 13 2016 by GreenCity Plumber
Green architecture is vastly becoming a popular option to help the environment in a stylish way. This type of architecture promotes sustainable energy sources and…
View All
It's the law. City bylaw says that all industrial, commercial, institutional ICI properties and multi-residential properties of more than 4 units...
View All
My basement toilet laundry tub constantly backed up whenever I washed clothes. GreenCity Plumbers snaked the drains and cleared the clog. Everything works smooth now. Wonderful to have my pipes cleaned by GreenCity Plumber.
- RS, Oakville, Homeowner
Backflow preventer had to be installed in main 4" water main feeding our apartment building. GreenCity Plumbers worked very closely with us during the installation of the backflow preventer because water in the building had to be shut down for several hours. Although 200 families were inconvenienced, GreenCity pre-assembled all parts and backflow preventer for fast assembly prior to... - AB, Residential Property Manager, North York
Water was gushing from the floor at our carwash was due to huge water leak in the 6 in original iron water pipe installed more than 50 years ago. Without water, our carwash is out of business. GreenCity Plumbers quickly found the water leak 6 feet below existing concrete floor and temporarily sealed leak in a badly perforated pipe, allowing our carwash business to operate. In the meantime,... - RMB, Car Wash Owner, North York
Old steam boilers seemed more off than on. GreenCity replaced old boilers with new gas fired Fulton boilers. Building tenants now come to work without any expectations of "no heat" now that the new boilers are installed.
- RSW, Commercial Building Landlord, Toronto
After major storms, lower level of our 60 year old industrial building always flooded. GreenCity Plumber determined cause of flooding was due to building storm water being connected to an internal plugged French drain system on our property. Green City recommended that property storm water be diverted directly to City storm water drains. GreenCity prepared engineered drawings for the... - AS, Industrial Processing Business , Scarborough
Request A Quote