Ductless Air Conditioner Installation
For home owners that want to save money, ductless air conditioning is an excellent option, especially if your home ails from chronic overheating in the summertime. Other homes may have central air conditioning but still suffer from hot areas while other areas are relatively cool.
Here are some of reasons that your home may be "hot" during cooling seasons such as
Central air-conditioner not properly sized for the size of home it serves
Duct work may not be properly sized for cooling
Air leaks from supply air and return air ducts
Low R value insulation and air leakage from outside walls
Excessive ductwork runs too far from the cooling source furnace
Home heated with radiators so there is no air duct distribution system in the house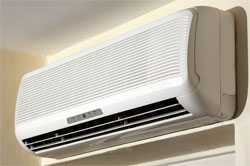 Ductless air-conditioner ideal solution for houses with or without ducts.
Installing a split ductless air-conditioning system is an economical solution, especially for a home that has no ducts installed. Ductless air-conditioner consists basically of 2 main parts being a "condenser" and "evaporator." Together the condenser and evaporator work together to deliver cooled air within the house.
Condenser (Located outdoors)
A condenser is the outside unit that dissipates heat taken from within the house to the outside and also sends cooling medium to the evaporator fan coil unit located in the house. The condenser usually sits on the ground and is connected to the inside fan coil evaporator unit with copper tubing. Depending on the capacity required to cool one, two or three or more rooms will determine the size of the condenser.
Evaporator (Inside Air Handling Unit)
The evaporator is connected to the outside condenser with copper refrigerant tubing and electrical wiring. The evaporator is a stylish air handling unit that blows cooled air into the room that it is located. There can be as few as one air handling evaporator unit working or several evaporators working collaboratively with the outdoor condenser.
Installation of a ductless split air-conditioner is quite simple. Usually a hole not more than 3 inches is all that is needed to connect a wall hung evaporator to the condenser. Compare this to redesigning and installing new ductwork to be compatible with an existing central air conditioner. By locating air handling units in rooms that require supplementary cooling, the ductless split system will take a big load off the main central air-conditioning system, thus reducing the overall operating cost for air-conditioning the premises.
Also, wear and tear will be reduced on the central air-conditioning system that could hardly ever achieve the specified temperature. During extreme hot days the central air conditioner could be running almost continuously, without any downtime. Another benefit; in case of breakdown of your central air-conditioner, a backup source for cooling will be available until the central air-conditioner is repaired.
Empty nesters, having had their kids move out and having installed 1 or 2 split ductless air conditioning systems is all the cooling that they require for most summer days. On days that will be extremely hot, the central air-conditioner can be supplemented with the ductless air-conditioning system, ensuring comfortable even temperatures throughout the home. A supplementary duct-free system helps reduce operating costs when on many days all that's needed are the smaller ductless systems operating to satisfy the empty nester cooling needs. Doesn't it make sense not to cool an entire household when only a few principal rooms are occupied?
Contact GreenCity for ductless split air-conditioning advice. You can count on GreenCity.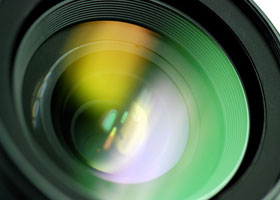 Our professional Toronto plumbing team has worked with countless Toronto property managers and Toronto GTA commercial & industrial property owners.
View All
Back
May 13 2016 by GreenCity Plumber
Green architecture is vastly becoming a popular option to help the environment in a stylish way. This type of architecture promotes sustainable energy sources and…
View All
It's the law. City bylaw says that all industrial, commercial, institutional ICI properties and multi-residential properties of more than 4 units...
View All
My basement toilet laundry tub constantly backed up whenever I washed clothes. GreenCity Plumbers snaked the drains and cleared the clog. Everything works smooth now. Wonderful to have my pipes cleaned by GreenCity Plumber.
- RS, Oakville, Homeowner
Backflow preventer had to be installed in main 4" water main feeding our apartment building. GreenCity Plumbers worked very closely with us during the installation of the backflow preventer because water in the building had to be shut down for several hours. Although 200 families were inconvenienced, GreenCity pre-assembled all parts and backflow preventer for fast assembly prior to... - AB, Residential Property Manager, North York
Water was gushing from the floor at our carwash was due to huge water leak in the 6 in original iron water pipe installed more than 50 years ago. Without water, our carwash is out of business. GreenCity Plumbers quickly found the water leak 6 feet below existing concrete floor and temporarily sealed leak in a badly perforated pipe, allowing our carwash business to operate. In the meantime,... - RMB, Car Wash Owner, North York
Old steam boilers seemed more off than on. GreenCity replaced old boilers with new gas fired Fulton boilers. Building tenants now come to work without any expectations of "no heat" now that the new boilers are installed.
- RSW, Commercial Building Landlord, Toronto
After major storms, lower level of our 60 year old industrial building always flooded. GreenCity Plumber determined cause of flooding was due to building storm water being connected to an internal plugged French drain system on our property. Green City recommended that property storm water be diverted directly to City storm water drains. GreenCity prepared engineered drawings for the... - AS, Industrial Processing Business , Scarborough
Request A Quote