Leaking Basement Repair
Backwater valve
Most cities and municipalities pay home owners rebates to install backwater valves and other flood control improvements. For example, City of Toronto could pay up to $3,200 in subsidies to City homeowners that complete work listed in their Basement Flooding Protection Subsidy Program.
Should the installation of a backwater valve be a homeowners' highest priority? See what the Insurance Bureau of Canada has to say about backflow valves.
Ask your insurance company if they cover damage due to flooding. One of Canada's top insuring companies specifically talks about repairs due to flooding. See what they say. . .
Is there more that homeowners can do to reduce the risk of flooding? Learn what steps the Insurance Bureau of Canada suggests homeowner should take to reduce a homeowner's flood risk.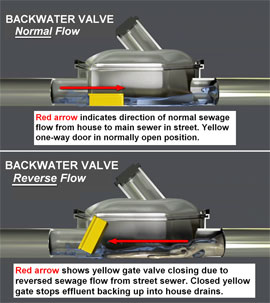 A backwater valve is plumbing device that installs in your sanitary and storm sewer line. The backflow valve is installed below the floor in your basement just before the point the main sanitary and storm sewer drains leave the house.
In case of flood conditions and in the event that City sanitary sewer effluent is backing up into your house, a trap door located in the backwater valve is triggered closed by the reverse flow of sewage racing towards your home. This reverse valve action prevents sewage from entering your house and flooding your basement through the basement floor drains and even toilets if the sewage water pressure could fill beyond the floor. Naturally, when the backwater valve is closed, plumbing fixtures such as toilets and sinks should not be used because waste will not drain to the City sewer system when the back water valve will be closed.
Toronto pays 80% of the invoice for installing a backwater valve but not to exceed $1,250.00.
Sump Pump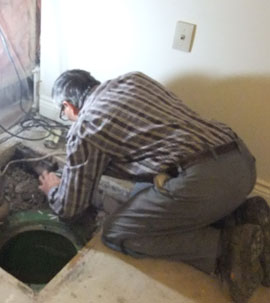 Plumber installing sump pump in sump pit. Sump pump discharges foundation weeping tile water below floor directly to outside.
One of our licensed city plumbers can determine where a sump pump can be installed including installation of a separate circuit 120 line voltage power supply for operating the sump pump. An even better idea is installing a new sump pump with a backup battery power supply that will operate even if there is an electrical power failure.
Check with one of our licensed Toronto plumbers to if you have an existing sump pump that could be replaced with a newer sump pump with a backup power supply. GreenCity Plumber can help you determine if a sump pump install or replacement will be eligible for the City subsidy program worth up to 80% of the invoiced cost up to a maximum of $1,750.
Foundation Drain (Weeping Tile) pipe severance and capping
Available subsidy is 80% of the invoiced cost up to a maximum of $400 including eligible labor, materials and taxes.
Downspout disconnection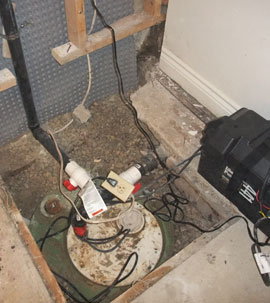 Note battery (right) supplies backup power when line power will be down.
It's the law. It's now mandatory for every Toronto homeowner to disconnect their storm water downspouts that drains roof water into the storm water sewer system. Disconnecting your downpipes results in less storm water being introduced into the City sewer pipe system and reduces the risk of storm and sewage from backing up into home.
Not sure how to disconnect your downspouts? GreenCity Plumber can look after disconnection of your downpipes from the internal storm water drain system. Call a GreenCity plumber today.
Contact GreenCity Plumber today. Find out if your home qualifies for various City grants.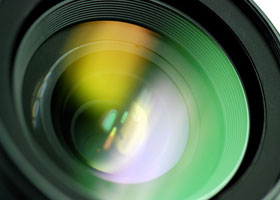 Our professional Toronto plumbing team has worked with countless Toronto property managers and Toronto GTA commercial & industrial property owners.
View All
Back
May 13 2016 by GreenCity Plumber
Green architecture is vastly becoming a popular option to help the environment in a stylish way. This type of architecture promotes sustainable energy sources and…
View All
It's the law. City bylaw says that all industrial, commercial, institutional ICI properties and multi-residential properties of more than 4 units...
View All
My basement toilet laundry tub constantly backed up whenever I washed clothes. GreenCity Plumbers snaked the drains and cleared the clog. Everything works smooth now. Wonderful to have my pipes cleaned by GreenCity Plumber.
- RS, Oakville, Homeowner
Backflow preventer had to be installed in main 4" water main feeding our apartment building. GreenCity Plumbers worked very closely with us during the installation of the backflow preventer because water in the building had to be shut down for several hours. Although 200 families were inconvenienced, GreenCity pre-assembled all parts and backflow preventer for fast assembly prior to... - AB, Residential Property Manager, North York
Water was gushing from the floor at our carwash was due to huge water leak in the 6 in original iron water pipe installed more than 50 years ago. Without water, our carwash is out of business. GreenCity Plumbers quickly found the water leak 6 feet below existing concrete floor and temporarily sealed leak in a badly perforated pipe, allowing our carwash business to operate. In the meantime,... - RMB, Car Wash Owner, North York
Old steam boilers seemed more off than on. GreenCity replaced old boilers with new gas fired Fulton boilers. Building tenants now come to work without any expectations of "no heat" now that the new boilers are installed.
- RSW, Commercial Building Landlord, Toronto
After major storms, lower level of our 60 year old industrial building always flooded. GreenCity Plumber determined cause of flooding was due to building storm water being connected to an internal plugged French drain system on our property. Green City recommended that property storm water be diverted directly to City storm water drains. GreenCity prepared engineered drawings for the... - AS, Industrial Processing Business , Scarborough
Request A Quote